Cartoonist, children's book author, illustrator, and musician, Jef Czekaj is about to release a children's book called: Hip & Hop, Don't Stop!
Here's the description from Czekaj's website…
Hip is a turtle that raps sloooowly.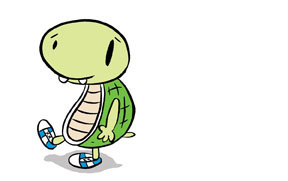 Hop is a rabbit that raps superfast.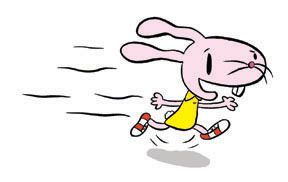 Who will be named the best rapper in Oldskool County? And will the animals in Slowjamz Swamp and the creatures in Breakbeat Meadow learn to party together?
Well, uh, you have to read the book.
Coming in Feb. 2010 from Hyperion/Disney!
Pre-order it from Amazon.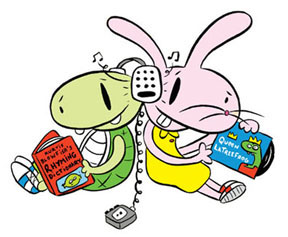 And here's the description from Publishers Weekly with a bit of a critique at the end…
Hip & Hop, Don't Stop! Jef Czekaj. Disney-Hyperion, $16.99 (40p) ISBN 978-1-4231-1664-6
Hip, a turtle, lives in Slowjamz Swamp, and Hop, a rabbit, lives in Breakbeat Meadow—a geographic divide that's also a huge social barrier in Oldskool County. But Hip and Hop have one thing in common: they're both devoted rappers ("Listen to the drums/ and listen to the basses./ I've got buck teeth,/ but I don't need braces," rhymes Hop). Their shared passion becomes the basis for a close friendship, successful partnership, and reconciliation between swamp and meadow dwellers. Cartoonist Czekaj inserts numerous inside jokes—most likely to be caught by adult readers—into the doodlesque drawings of his picture book debut (Breakbeat Meadow borders the Sugar Hills, and a De La Foal poster hangs in Hop's bedroom). But while the story should make for fun read-aloud (Hip and Hop's rhymes are color-coded for quick or slow reading), the pacing flags, and, in its eagerness to convey a lesson about prejudging differences, the conclusion is hazy. It's never entirely clear why combining Hop's fast rhymes, which other animals can't understand due to the rapid delivery, with Hip's soporific rapping equals a winning combination. Ages 3–7.